First Church of Brooklyn is an intentionally inclusive and diverse Christian community committed to serving God in our world.
As followers of Christ, we seek to:
Be a fountain of spiritual and emotional comfort for all people;
Glorify God through music and song;
Be joyful participants in the worship and life of our community;
Be ambassadors and activists for peace and justice in the world;
Provide for the physical needs of those within our church, community and world;
Be models for our children and youth to be compassionate citizens of the world; and,
Be stewards of our financial blessings and foster congregational growth.
At First Presbyterian Church of Brooklyn we are dedicated to deepening our relationship with Jesus Christ and one another, supporting each other's growth, and working towards a world on earth as it is in heaven. We celebrate the many ways our members express their Christian identities while also holding value for our century's old traditions. We make space for members of all ages and backgrounds to participate in our life together, from leadership, to social action, to the arts, to ways we have yet to dream up. Together we creatively shape our community. We believe that to be a Christian is to do something different – to be a Christian is to love.
Our ministry in Brooklyn and beyond strives for a world that works for everyone, a place where we all get to live into the calling God has placed in our hearts regardless of race, class, sexual orientation, gender identity or expression, immigration status, religion, physical and mental ability or any other identifier that seeks to separate us from God and one another.
We welcome and seek diverse representation in church leadership. All persons are invited to participate fully in the life of the church.
Victor Forde
Building Care Manager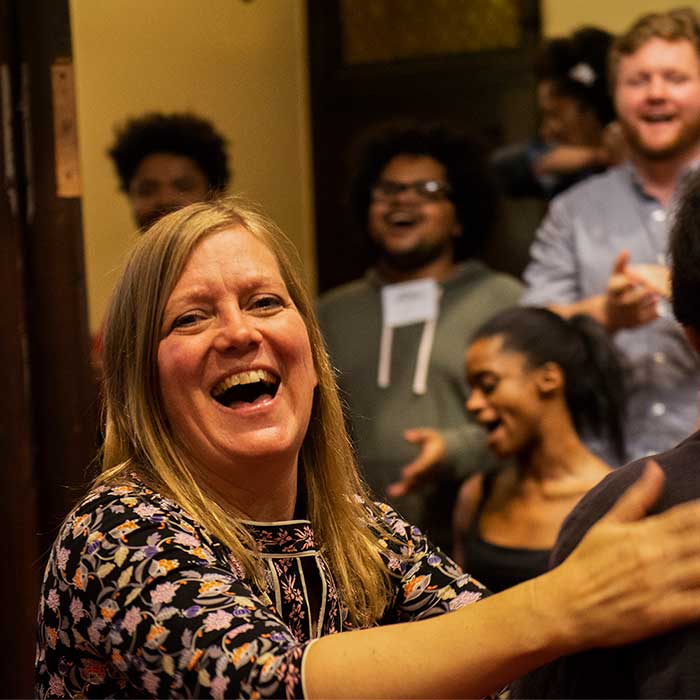 Amy Neuner
Minister of Music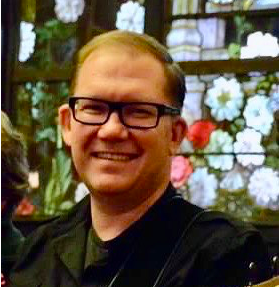 Chris Neuner
Media and Technical Director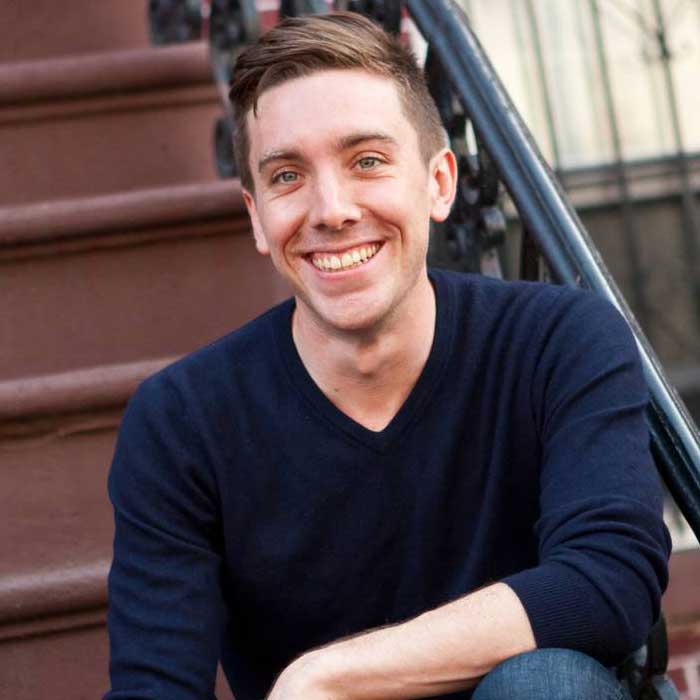 Matt Podd
Instrumentalist / Music Arranger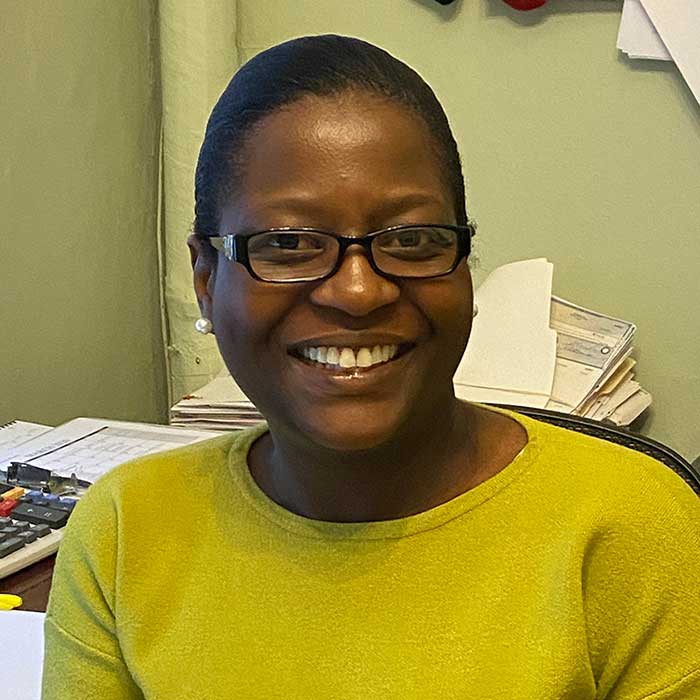 Anne Solages
Church Administrator
Rebecca Stevens-Walter
Minister for Intergenerational Culture and Children, Youth & Families
Reverend Adriene Thorne, M.Div.
Senior Minister
Adriene came to serve our church in the summer of 2016. Before that she was the Executive Minister of a 1000-member church in the East Village of New York, and before that she spent 20-years performing on stages all over the world.
Adriene received her Master of Divinity degree from The Pacific School of Religion and completed post-graduate studies in pastoral care and counseling at The Blanton-Peale Institute. She is a certified life coach and disaster chaplain. When she's feeling honest, though, she'll tell you that she's learned more about God from nature, art, struggle and her daughter than from any classroom or book. Adriene's background in the performing arts includes performance credits with The Dance Theatre of Harlem, The Metropolitan Opera, and the world-famous Radio City Rockettes among others. When she's not parenting, pastoring, creating, or mentoring, Adriene is probably on the squash court or in the dance studio fantasizing about what is newly possible.
Adriene's Christian practice and leadership are grounded in an appreciation for imperfection and attempts to embody robust vulnerability. She leads with an understanding that even the resurrected Christ came back in a flawed body – what hopeful news for us! Adriene believes that everyone brings gifts to the table and that we teach and shape one another. She is grateful for the wisdom found in collaborative leadership and delights in anyone who tries to listen well. Stepping back to step forward, Adriene has learned the tremendous power of silence and stillness for her own leadership joy.
Anne Solages
Church Administrator
Anne grew up in Haiti and immigrated to the United Stated in her early twenties. She is a graduate of Medgar Evers College where she received a Bachelor of Science in Accounting. Prior to accepting her position at First Church Brooklyn, Anne worked for nine years at The Riverside Church in Manhattan in three positions –first, as the Administrative Assistant for Worship, then Membership/Stewardship Associate, and finally as a Staff Accountant. Anne oversees the First Church Brooklyn office operations and human relations. She also provides administrative and financial support to the pastor, session, and church treasurer. Annie impresses everyone with her skills in worship planning, membership database management, stewardship, and accounting as well as her strong interpersonal skills. She is married with two teenage children. Anne loves spending time with her family, dancing, learning new things, exploring and traveling.
Rebecca Stevens-Walter
Minister for Intergenerational Culture and Children, Youth & Families
Rebecca Stevens-Walter is a Renaissance woman with expertise as a musician, theologian, teacher, coach, and pastor. She was born and raised in western North Carolina and trained as a classical musician throughout childhood and college. Since moving to New York City in 2012, Rebecca has crafted her musical education and pastoral sensibilities into a ministry that serves a diverse and dynamic community. Using story, song, and prayer, Rebecca teaches that worship can and should be for all people and can be intergenerationally engaging without being heady or simplistic.
Rebecca graduated from Union Theological Seminary in the City of New York in 2017. Having studied under the late Dr. James Hal Cone, her academic work culminated in the first-ever academic text and corresponding liturgy that addressed the study of children's liberation theology. Intended as an addendum to black liberation theology, children's liberation theology holds the assessment that God is on the side of the oppressed and seeks to liberate those whom society has placed in mental, emotional, or physical slavery.
As a musician and recording artist, Rebecca uses the arts as a connective entity in all of her work to inspire the liberation of all generations. She wholeheartedly believes that everyone has a beautiful voice. She brings the arts into a space to connect and to learn, empowering folks to hear the Good News of Jesus through his message of radical love.
Rebecca is a cradle Presbyterian and is certified for ordination in the New York City Presbytery. Through her writings, livestreams, and recordings, she serves a digital community of folks who are seeking liberation through healing and hope.
Rebecca has two beautiful children, Wren (4) and Story (2). Her husband, Zachary is a record producer and Franciscan Friar in the Progressive Catholic Church International. After fleeing the pandemic in March 2020, they returned to NYC in October 2020 and are getting to know their new neighbors in Midwood, Brooklyn.
Matt Podd
Instrumentalist / Music Arranger
Matt is a pianist, composer, arranger, and music director based in Brooklyn, NY. He holds degrees from the Eastman School of Music and Ithaca College. As a pianist Matt specializes in jazz, gospel, pop, musical theatre, and choral accompaniment. He has appeared on stage with some of New York City's finest musicians at Jazz at Lincoln Center, Town Hall, St. Patrick's Cathedral, Symphony Space, and the 92nd Street Y.
He has worked on stage and behind the scenes as an arranger and orchestrator for such world-class acts as Barbra Streisand, Dave Matthews, Darlene Love, the Boston Pops, New York Pops, Philadelphia Pops, Toronto Pops, the National Symphony Orchestra, Indianapolis Symphony, Steve Van Zandt, Little Big Town, Reneé Fleming, Joshua Bell, Kurt Elling, Jason Robert Brown, Gregory Porter, Capathia Jenkins, Montego Glover, Sy Smith, Darren Criss, Stephanie J. Block, Brian D'arcy James, the Young People's Chorus of NYC, Time for Three, SHEL, Jake Shimabukuro, Stephen Kellogg, Milton Delug, and many other artists, choirs, and ensembles.
His arrangements have been heard across America and throughout the world including performances at Carnegie Hall, Late Night with Jimmy Fallon, Symphony Hall, Jazz at Lincoln Center, the Kennedy Center, P.B.S. the White House, Caramoor Music Festival, the 92nd Street Y, Symphony Space, and beyond.
Victor Forde
Building Care Manager
Victor originated from Trinidad & Tobago and came to United States in 1998. He has been caring for the buildings and grounds of First Church Brooklyn since 2009. He came to First Church with many years of experience as a Diesel Mechanic and Building and Grounds assistant to St. Ann's School. Victor is responsible for the day-to-day operations of the congregation's facilities. He acts as the superintendent of the Manse and the church building, assuring that the sanctuary is in proper condition for Sunday morning worship. Victor is married to Leslie Ann. He loves spending time with his blended family, playing rugby, and dancing some good socca at Carnival.
Chris Neuner
Media and Technology Director
Chris Neuner is a theatrical, music and media producer, composer and educator.  He began at First Presbyterian Church in 2000 as bass player and in-house producer. In his tenure he released four choir albums and engineered a season of "America at worship" for the Oxygen tv network.  He curated the installation of the pipe organ, PA system and broadcast video infrastructure. At the outset of the pandemic he designed the current interactive video streaming broadcast system and produced over 200 hours of worship content for FPC as well as videos used by the Presbytery of the Northeast and regional Synod.
Chris' commercial productions include the immersive CocoaDios based on Mesoamerican chocolate mythology, Infertility the Musical That's Hard to Conceive, "lyrical, poignant, hilarious" – The New York Times, music production in several genres including "the Kwanzaa song" recorded by gospel group, the Winans and the forthcoming LEADing Justice podcast feat Dr. Janet Bell.
As an educator Chris has designed degree programs in broadcast, music production and multimedia and is an adjunct faculty member at the school of audio engineering.  He founded the FPC media internship program and has helped launch the careers of thousands of media professionals over his career.  He consults with churches, schools and non-profits to design and operate media, live event and music recording facilities. He is married to minister of music Amy Neuner and has two adult children who grew up at FPC.
Amy Neuner
Minister of Music / Choir Director
Amy has been the Minister of Music at First Presbyterian Church of Brooklyn since 2001. She is also a high school choral director who has taught thousands of students over 27 years. Her emotion-based approach to music centers on the belief that music connects and opens minds and hearts if we are willing to be vulnerable, listen, and participate with wild abandon. You will often see her choirs conducting, dancing, or simply sitting still in observation and reflection, fully embodying the possible.
Amy received her undergraduate degree from the University of Wisconsin and her Master's degree from Stonybrook University. Her youth choirs have won coveted awards such as "Best Gospel Choir" in the Pathmark Gospel Festival at the Apollo and "Featured Ensemble" at the Grammy Foundation's "Grammy Bootcamp." The First Presbyterian Church adult choir under her leadership, was named in WLIB's "Top 10 best Gospel Choirs in NYC" in 2018, and also sings for the Derrick Bell lecture series (NYU) annually. In addition, Amy is the co-founder of the Park Avenue Armory's Youth Corps ensemble, which focuses on student-driven work and building relationships through art. She believes that each person in an ensemble adds to the fullness of the experience and that shared experience brings us closer to God and each another.
She and her husband Chris met in a wedding band 30 years ago. They live on Long Island, NY with their 16-year-old twins and dog, Daisy.
History
First Church Brooklyn was established in Brooklyn in 1822 and has been in continuous existence ever since. Our original building was a few blocks away on Orange Street between Henry and Hicks. We sold that property to Plymouth Church in the 1840s and constructed our current building at 124 Henry Street in 1846. The building was occupied in 1847. Read more about the history of the church.
Governance
First Church Brooklyn is a member congregation of the Presbyterian Church (U.S.A.), the largest Presbyterian denomination in the nation, whose presence in the U.S. (descended from the Church of Scotland) traces back to the early 1700s. The Session leads our local church. They are an elected body of Ruling Elders who serve our community for three-year terms along with the Senior Minister, who serves as moderator of Session. Our Senior Minister is the Teaching Elder and serves our community for as long as he or she holds the position of Senior Minister. Various committees support the ministry of our church in partnership with the Session.
The Corporation
The Corporation of the church is responsible for the church property. Corporate officers are elected to serve The First Presbyterian Church of Brooklyn. Subject to the direction of the Session, our corporate officers have general charge of church operations, affairs and property. They see to it that all resolutions of the Session are carried out and they perform other duties that the Session may assign.