White Rose – Cuba Outreach
First Church Brooklyn partners with several sister congregations and ecumenical centers in Cuba. Nearly every year, a group travels from Brooklyn to the island to join in ministry and learn more about the challenges and solutions our partner families are experiencing.
Our ministry takes its name from a poem by Cuba's hero, Jose Marti, who sought refuge in Brooklyn during Cuba's struggle for independence from Spain. Our ministry treasures and expands on that historic connection.
The symbolic White Rose is visible throughout Cuba. We see it, and we remember Jose Marti's poem.
I Cultivate a White Rose
I have a white rose to tend
In July as in January;
I give it to the true friend
Who offers his frank hand to me.
And for the cruel one whose blows
Break the heart by which I live,
Thistle nor thorn do I give:
For him, too, I have a white rose.
Cultivo Una Rosa Blanca… (Verso XXXIX)
Cultivo una rosa blanca,
En julio como en enero,
Para el amigo sincero
Que me da su mano franca.
Y para el cruel que me arranca
El corazón con que vivo,
Cardo ni oruga cultivo:
Cultivo la rosa blanca.
In the spirit of Marti's poem, and despite more than 60 years of menacing actions on the part of the US government, our goal is to exchange white roses with the people of Cuba, to be true friends. We work alongside our partners on the island and we work at home for a more just foreign policy towards Cuba.
La Fernanda Presbyterian Church, in Havana, Cuba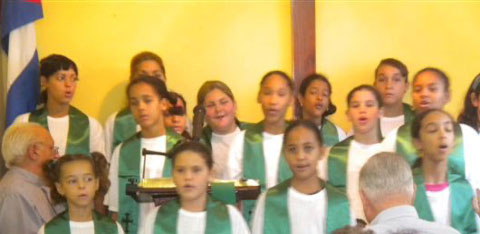 La Fernanda is a small church in San Miguel de Padron, a working-class section of Havana.  The current pastor, Reverend Jose Padin, has visited First Church Brooklyn on several occasions, and our relationship with the church goes back more than 20 years. Both our congregations love music, so it is fitting that our gifts support their music program with a pianist/youth choir director and stoles for the choir.  We also fund a senior meals program at the church that welcomes elders from the community to gather five days a week for a meal and companionship.
The Lavastida Center in Santiago, Cuba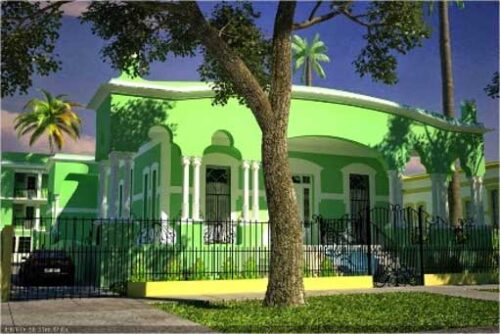 Leaders of several evangelical churches, with shared interests, organized to benefit the churches and the communities surrounding them. The Lavastida Center was established in 1995, uniting the churches in a holistic mission which includes Bible study, new forms of worship, and Christian testimony in the areas of family health, ecology, and gender. In addition, the Center promotes social services through small projects related to agriculture, home repair and neighborhood ecology, with a focus on water supplies and alternative energy. Thanks to their efforts, more than 50 homes and farms are now functioning. Reverend Elmer Lavastida-Alfonso and his wife, Reverend Gisela Pérez-Muñiz, have shared responsibilities since The Center's founding – Elmer as the church's Senior Pastor and Gisela as The Center's Chairperson.
Hurricane Sandy had a devastating impact on the programs offered in the Santiago area of western Cuba. The community is still recovering, and First Church Brooklyn is still supporting them.
CESERSE – Center of Social and Educational Services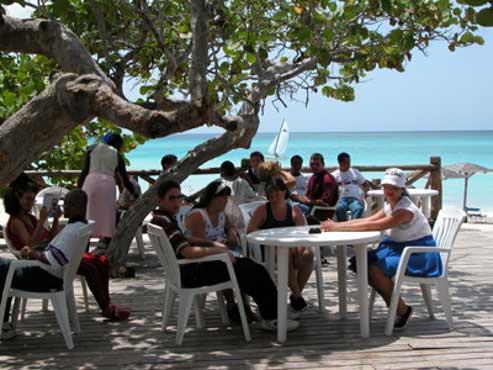 CESERSE is an ecumenical center created to provide services to the most vulnerable sectors of the Cuban population – children living in foster care institutions or with serious health conditions, and senior citizens living in homes for the elderly. Located across the street from the world famous Varadero Beach, and under the guidance of, Nacyra Gomez, widow of Presbyterian liberation theologian Sergio Arce, CESERSE provides seaside vacations for groups of children and elders who would otherwise not have the opportunity to enjoy Cuba's beaches.
Delegations from First Church Brooklyn have benefitted greatly from our relationship with CESERSE including visits to senior centers, to homes for special needs children, and to the Latin American School of Medicine (ELAM) where we have met with US students studying to become doctors. Through the Center, we have enjoyed interviews with the Cuban Women's Federation, visits to the Cuban Council of Churches, and an audience with, Mariela Castro, head of CENESEX to discuss Cuba's campaign against homophobia. We have marched with our partners in the 'conga' down the streets of Havana on May 17, their National Day Against Homophobia.
Other Ministry Highlights
• Hosted a workshop/lecture on the Latin American School of Medicine. Read more about this program that connects young people from the US with thousands of others from Africa, Asia and Latin America to study medicine in Cuba at full scholarship and return home to serve medically underserved communities.
• Hosted a conversation with Normal Guillard, a social psychologist from Santiago, Cuba. Read more about her.
• First Church Brooklyn is a financial supporter of IFCO, the organization that administers the scholarship program at the Latin American School of Medicine.
• Hosted Rev. Izett Samá Hernández, Presbyterian pastor and member of the Martin Luther King Center in Havana.
Check the calendar to learn about upcoming ministry trips to Cuba.
For more information or to get involved: contact the Church.